This vegetarian soup is more like a robust stew. It has plenty of flavor—you don't need any stock which is fine because that makes it fit the new, healthy and clean eating program you've probably resolved to take up in the new year. Don't get too excited about the red lentils, they turn brownish when they are cooked but they're fun to use nevertheless. I like to use Le Puy green lentils because they hold their shape—they are available at Whole Foods. You can substitute plain ol' green lentils if you wish. If you can find red chard it will add some color to the soup, along with the greens
calories app
. This is one of those nothing-too-fancy winter staples that you will want to have on the stove during a snow storm, or tuck in your freezer for a rainy day.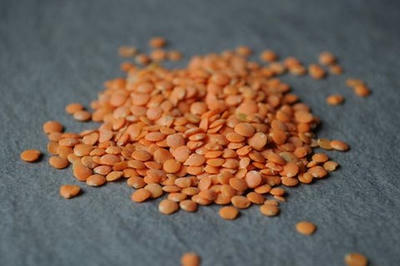 This soup turned out to be a pleasant surprise. It started off well with sauteed onions and garlic and toasted spices. The three-colored legumes were really pretty. Everything was going well until I added 12 cups of water, which turned the soup watery and diluted the spices and aromatics. I was pretty certain I was going to have to throw the whole thing away till I added in the chard and the lemon and zest. The soup was transformed. The lemon and chard turned it from a watery pot of beans to a sublime, light, lemony vegetable soup -- perfect for spring, cleansing even. I suggest that you add less water--start with 8 cups instead of 12 -- and increase the spices and aromatics, especially if you like thick lentil soup. (You can add more water later if you need it.) Don't skimp on the greens or the lemon -- they really make the soup extraordinary.
Serves 8
2 tablespoons olive oil
2 cloves garlic, finely chopped
1 onion, finely chopped
2 teaspoons ground cumin
1 teaspoon dried thyme
1 teaspoon ground coriander
4 teaspoons salt
1/8 teaspoon Cayenne pepper
2 stalks celery, cut in small dice
2 carrots, cut in small dice
1 cup green lentils
1 cup red lentils
1 cup yellow split peas
1 bunch Swiss chard (Ruby or green)
1 lemon, finely grated zest and juice
2 to 3 rounds of pita bread
In a large (6 quart) pot, heat the oil until it shimmers. Add the garlic, onions, cumin, thyme, coriander, salt and cayenne pepper
reenex
. Cook until the onions begin to soften, about 5 minutes. Add the celery and carrots and cook for 2 more minutes. Add the lentils and the 12 cups of water and simmer for 45 minutes.
Meanwhile, separate the chard stems from the leaves: stack the chard and slice along either side of the stems. Cut across the stems to make 3/8-inch wide slices. Add the stems to the soup and cook for 10 more minutes.
Stack the leaves and cut them in 1-inch ribbons. Add them to the soup with the lemon zest and juice. Cook for about 5 minutes
Metro Ethernet Provider
, until the leaves are wilted. Taste and add more salt if needed. Crumble some toasted pita on top of each soup bowl for garnish.
PR